As 2019 President for Stark County Association of Realtors, the staff and I write articles for the newspaper section of the Canton Repository every Friday for this year. If you're a subscriber to the Rep, be sure to check out my monthly market updates. Here's February's update: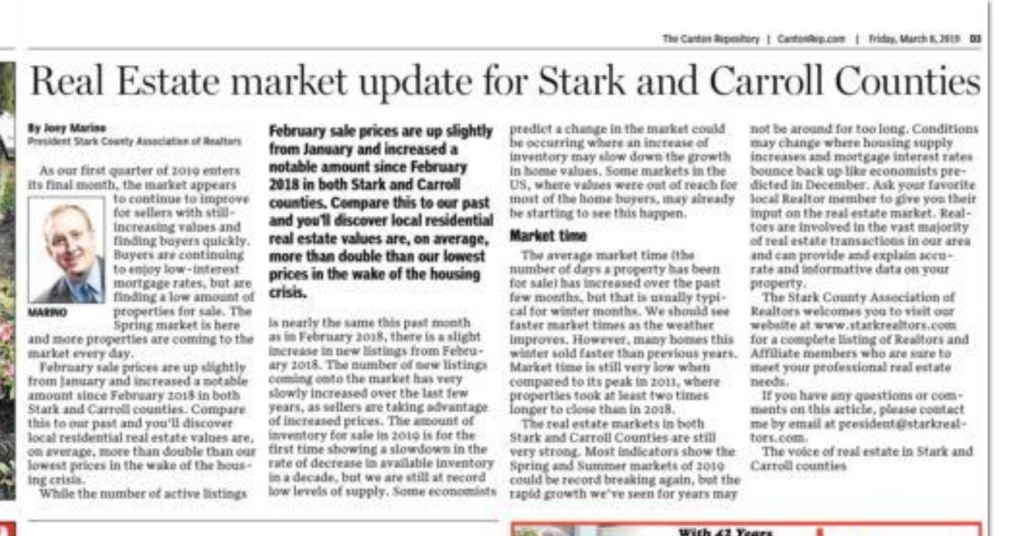 As our first quarter of 2019 enters its final month, the market appears to continue to improve for sellers with still increasing values and finding buyers quickly. Buyers are continuing to enjoy low-interest mortgage rates, but are finding a low amount of properties for sale. The Spring market is here and more properties are coming to the market every day.
February sale prices are up slightly from January and increased a notable amount since February 2018 in both Stark and Carroll counties. Compare this to our past and you'll discover local residential real estate values are, on average, more than double than our lowest prices in the wake of the housing crisis.
While the number of active listings is nearly the same this past month as in February 2018, there is a slight increase in new listings from February 2018. The number of new listings coming onto the market has very slowly increased over the last few years, as sellers are taking advantage of increased prices. The amount of inventory for sale in 2019 is for the first time showing a slowdown in the rate of decrease in available inventory in a decade, but we are still at record low levels of supply. Some economists predict a change in the market could be occurring where an increase of inventory may slow down the growth in home values. Some markets in the US, where values were out of reach for most of the home buyers, may already be starting to see this happen.
Market time
The average market time (the number of days a property has been for sale) has increased over the past few months, but that is usually typical for winter months. We should see faster market times as the weather improves. However, many homes this winter sold faster than previous years. Market time is still very low when compared to its peak in 2011, where properties took at least two times longer to close than in 2018.
The real estate markets in both Stark and Carroll Counties are still very strong. Most indicators show the Spring and Summer markets of 2019 could be record breaking again, but the rapid growth we've seen for years may not be around for too long. Conditions may change where housing supply increases and mortgage interest rates bounce back up like economists predicted in December. Ask your favorite local Realtor member to give you their input on the real estate market. Realtors are involved in the vast majority of real estate transactions in our area and can provide and explain accurate and informative data on your property.
Read more: http://www.newspaper-marketplace.com/canton-repository/special-section/Real-Estate/03-08-2019/Page-3/Story/Real-Estate-market-update-for-Stark-and-Carroll-Counties
I haven't been posting my 2019 market updates to my website here, so if you didn't catch my last two articles in the paper, you can find them here.
– 2018 Market Review
– January 2019 Market Update