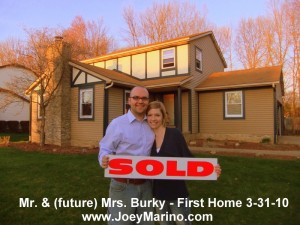 Dennis and Trisha just bought their first home and were so pleased with our service they're even going to invite me to their wedding! You better not have a buffet at the reception Trish, or I'm going to have to eat someone at the end of the line out of any food…
Here's a testimonial written by Trish:
I have no hesitations at all in fully recommending Joey Marino. We had no idea what kind of home we wanted, and several times took up several hours of Joey's days trying to figure it all out. Joey was totally patient with us, was very honest, and amazingly generous with his time and effort. Joey went completely out of his way more than once to ensure we were able to get our home. I truly believe no other realtor would go to the lengths that Joey did to make it happen for us. I cannot thank him enough for all that he has done. He has made the first-time-home-buying experience an easy and completely satisfying one. THANK YOU, JOEY!!!!! You've made a dream come true!
Thank you guys, and I truly enjoyed working for you. May your new house bring you many many years of joy and may you invite me to all your pool parties! 🙂