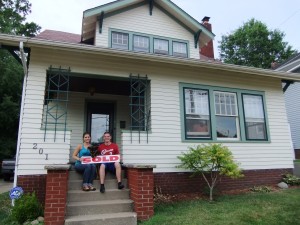 Helped this wonderful young couple purchase their first home in Wooster, OH. We had this house under contract in just days from the listing. They were such a pleasure to work with! Here's a great testimonial they wrote for me:

"Joey was great! My wife and I went into our now new home for the first time and fell in love with it. We placed an offer that day and Joey began to help us right away with the the process of buying our home. He represented both the seller on this property and us (the buyers) and we honestly felt that he was looking out for the best interest of both parties. We had quite a time during this process as well considering that we had a faulty appraisal done which almost threw our entire loan and approval down the drain. Joey wouldn't dream of that happening so he worked an amazing amount to research our original appraisers faults and get the appraisal reversed and done correctly the second time. Joey never hesitated to meet with us whenever we wanted to go and look at the house and he was very prompt on returning calls and e-mails. Overall, we are grateful that we didn't come in with a realtor when buying our home because Joey did a great job working with us on everything and if we have any questions or concerns we know that we can still contact him and get the same treatment. I would recommend Joey as your realtor whole heartedly and I can't express our satisfaction with his work." – Alex & Marianne

Thanks guys! It was such a pleasure working for you and I hope you all the best in your first home!